Hardwood Floors Refinishing
Your Floors looking great again The difference you can see

Although some hardwood floors can be purchased pre-finished, the majority must be sanded and finished once installation is completed. New wood floors that require finishing allow customers to apply their personal preference, specially when it comes to the stain or type of finish that they want to use.
The Process of Wood Floor Refinishing

Sanding
The first step to refinish a hardwood floor is sanding. This process gives the floor a fine finish, removes imperfections and preps the wood floor for the application of stain and/or polyurethane finish. Drum type sander is used for heavy sanding operation. The experience and sanding technique of the hardwood flooring technician determines the quality of the outcome of the finish. If the wrong grit is used for the type of wood species you have, the finishing process could get affected.
Staining Hardwood Floor
A custom stain can be applied to the hardwood floor during the finishing process. This will allow you to determine what shade or color you prefer for your hardwood flooring. Different type of wood gives off certain characteristic when being stained and finished. For example, Cherry hardwood takes light reddish stain well, generally no filler is needed for this type of wood and it imitates mahogany very well . On the other hand, Maple hardwood stains well in lighter colors, takes fine finish and no fillers is needed. Make sure that your hardwood floor technician helps you figure out what stain will work best with the type of hardwood you have.
Finishing Hardwood Floor
There are properties and method of application that needs to be considered when finishing hardwood floors. Determine first the type of finish appropriate for the type of wood specie you have. Most finish are applied with a high quality brush or lambs wool applicator. A sealer is applied first. Some seals produce satisfactory results with one coat but most manufacturers recommend two coats or one coat plus a special top dressing. Surface finishes are then applied. There are different types of polyurethane finish. The oil modified polyurethanes and moisture cured polyurethane. Make sure that the sealer and top coat finish being used on your hardwood floor are compatible. Consult your wood flooring contractor for further details.
What to Look For Before Refinishing
First, find out if you have engineered or solid hardwood floors. Solid wood flooring is made of one piece of wood from top to bottom and can be used in any room that is on or above ground. One of the many benefits of solid wood floors is that it can be sanded and refinished many times.
Engineered wood floors are also made of real wood, but include multiple layers, with the top layer made of high-quality wood. Because engineered wood floors expand and contract less than solid wood flooring, they are ideal for basement installations. While this type of flooring can be sanded and refinished, it cannot be done as many times as solid wood flooring.

Laminate floors aren't wood at all, but a synthetic product that never needs refinishing. The best way to tell what kind of flooring you have is by looking at the edge of exposed flooring (under heating vents, for example).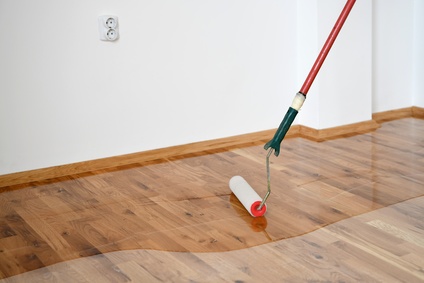 Restore your
hardwood floors
to look like new!
Imagen Wood Floors can restore your hardwood floors to look like new! We use top quality finishes and restoration products and techniques to ensure you a fabulous floor. Sanding provides a method for smoothing an installed floor, compensating for unevenness of the sub-floor. Additionally, sanding is used to renew the appearance of older floors. Sanding using successively finer grades of sandpaper is required to ensure even stain penetration when stains are used. Custom hardwood colors, finishes and tints, Eco friendly and water based products are some examples of what we work with.
© Copyright Imagen Wood Floors